Hi there!
This week has been really busy for me but It was worth it!
¡The play "Paella y Fish and Chips" has just been published!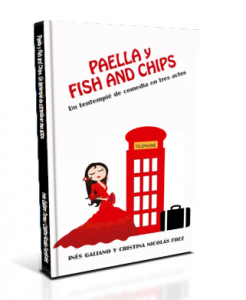 Description of the book: Category: Humour
Description: Meet the typical spanish family!
  Marisiña and Vicente make an effort to send her daughter Esperanza to London hoping she will have a better future.
This is a play full of crazy scenes that will make you laugh out loud.
For now, only the spanish edition is available.
Authors: Inés Galiano y Cristina Nicolás
Cover ilustration: Inés Galiano
Writing a play has been not only a challenge but also an adventure. I am really happy about the outcome. It has been great to carry this project out as a co-author with Cristina. (Sharing work is good sometimes.)
I hope you enjoy reading it as much as I enjoyed writing it!
I invite you to the:
Official presentation of the book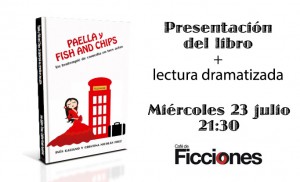 The event will be held in my hometown Café de Ficciones,  Murcia, Spain, on Wednesday, July 23rd.
Description of the event:
¡There will be a PRESENTATION by José Antonio Gómez Hernández , Vicerector de Cultura y Comunicación, followed by a DRAMATIC READING by the authors! We will read out loud one scene of the play.  Please, visit the
 Facebook
 event!